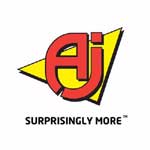 AJ Products Discount Code & Voucher October 2020
deal
Waste Paper Bins from just £5.50
deal
Shop Social Distancing Products for your workplace now!
deal
Buy Social Distancing Office Screens for your Workplace now!
deal
Buy Social Distance Floor Signs for only £17.50
deal
Pedal Bins for Offices from just £22.50
deal
Buy Bike Racks and Shelters now!
deal
Shop Commercial Ashtrays at AJ Products
deal
Get up to 25% off Selected Items
deal
Sign up to our newsletter to get £20 off your first order!
deal
Free Delivery to mainland UK!
deal
Interest Free Finance Available!
deal
Shop Outdoor Furniture at AJ Products
deal
Shop Benches at AJ Products
deal
Buy Home Gym Equipment at AJ Products
deal
Great Selection of Recycling Bins at AJ Products
£75 off
Get £75 off when you spend over £500
£150 off
Get £150 off when you spend over £1000
deal
Get £300 off when you spend over £2000
20% off
Get 20% off on home office products
deal
Bar chair nashua, white with red from £149