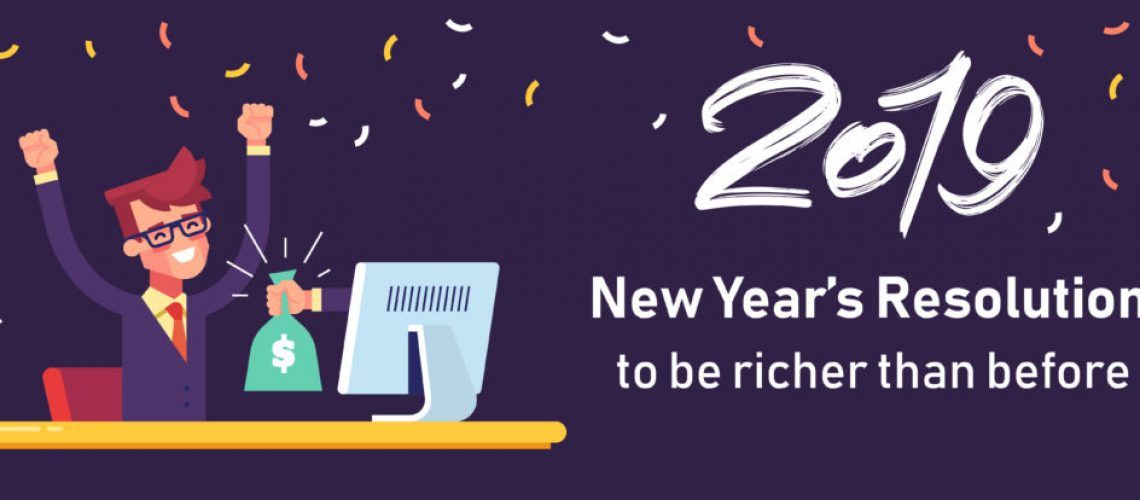 Have your financial plans always end up being undone? That's what happens to everyone. According to research, only 22% of individuals actually accomplished their New Years' resolution 2018.
This year, let's compensate for all your broken resolutions and start with these budget-friendly plans that are very easy to keep, we promise.
Since money saving is the most common and ultimate New Years' resolution after fitness savings, therefore, we have rounded up some practical tricks that will not transform your life but will surely make you a little richer at the end of 2019.
Use Real-World Money
Make it a habit to use cash instead of relying on your credit cards. There is something associated with our minds that make us more watchful when it comes to spending cash. Using cash instead of cards will help you to be mindful of where you are spending extravagantly, and you can easily keep a track of how much you have already spent. On the other hand, using a card is not a good option for people looking to save money because, with digital payment methods, you never feel the pain of losing your hard-earned cash. This trick will not only help you record your expenses but will also motivate you to save more of your cash.
Do Not Order Food
This one is a bit difficult but could end you up to save even more. Ordering your food is one of the most horrifying budget-buster for the ones who are looking to keep on a budget. Even after using Food voucher codes, this will not make a great difference to your ultimate financial goals. Cooking your food will be healthier and can help you keep cutting your food expenses. To stay healthy with great food, you may go for monthly subscription box services available at voucherpro.co.uk.
Control Your Car Expense
Owning a car is most likely to be the biggest personal expense and if you are dreaming to save money then you must be able to control your car expenses. If you are planning to buy a car this year, then do it wisely. You can check websites like Car Finance Deals discount code to find the best new and used car deals for unbelievable discounts. In case, if you are already having a car then keep it properly maintained, use manual recommended octane gas.
Call Quits to Smoke
This year, smokers have real control in their hands as they are not only able to maintain good health but can also win a savings of almost £3,796 by the end of this year. Besides, the average price of a cigarette packet is £10.40 after the latest tax rises. However, for those who are not in the mood to quit smoke, they may better go with vape product discounts to at least save a few pounds practically on their smoke addiction.
Change Your Drinking Habit
Cutting your drinking expense can save you a lot more than your thoughts, but it will only work when you cut it for the whole year. According to some figures, the average person spends £787 a year on alcoholic drinks which is enough for a brand new iPhone or a Mulberry tote bag. This will also support you to get greater control over your spending. However, you can occasionally drink, making sure if it's not breaking your budget. Get new years resolution discount code
Don't Be Lazy to Work
January is the best month to make improvements to your life and to be a bit richer, you have to do work without showing up your laziness. This year, pledge yourself to work more, earn more. You could use different skills for adding some extra amount to your bank account. Do some freelance work by your skills, make logos, write blogs, or create a Resume to be richer at the end of 2019.
Wisely Book your Travel
Let's be honest, we won't stop you from enjoying your life but that's where you need to be extra careful about your travel bookings. Being little strategic might help you save money without compromising your travel and fun. Book your travel wisely to get the lowest fares. Flights with advance bookings are cheaper and save you more money. Get new years resolution discount code.
Automate Your Savings
Saving cash is very hard, no matter how motivated you are still, by the end of the day, you find something to buy and this cycle goes on till the year ends and ultimately, it leads you out of money. But, if you automate those savings then it will surely work for you. All you need to do is set up an automatic transfer from your current account to a savings account on payday. By doing this, you will be able to actively save your money at each month's end.
So, these were your key New Years' resolution that needs to be kick-started from January and we are sure till March, you will definitely make a difference than before. Try to religiously follow these tricks and save visible money for yourself to be richer than 2018.
If you are looking to get a few more saving tips or discounts then don't miss out to check VoucherPro.co.uk.